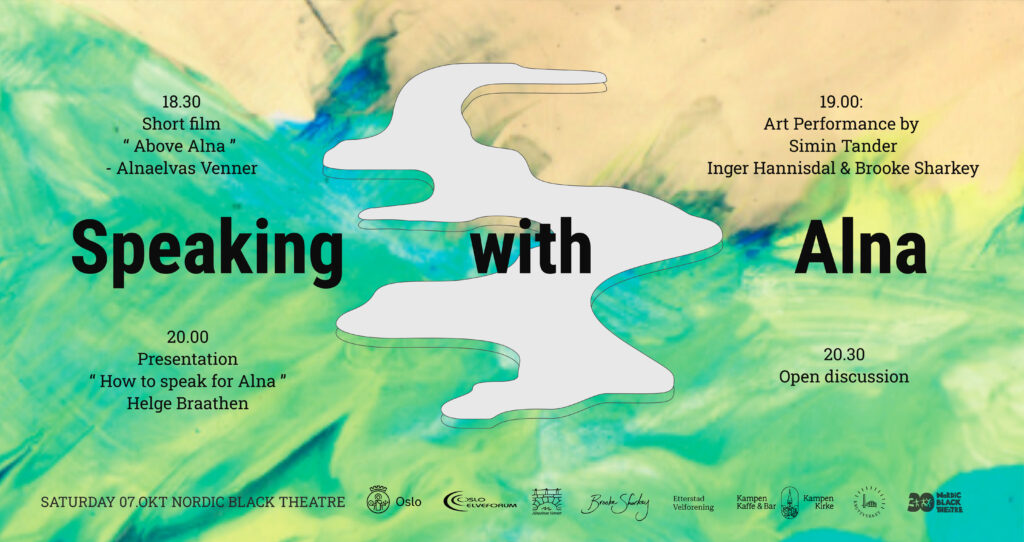 Speaking With Alna er en serie arrangementer med refleksjoner rundt Alna-elva som skjer våren, sommeren og høsten 2023. Alle arrangementene er gratis og åpne for alle.
Program:
18.00
Døren åpner
18.30
Visning av kortfilm – «Above Alna» (8 minutter)
Gjengivelse av dronefilmen som ble tatt opp av Daniell Philip Ashby fra Tilt, som viser den 15 kilometer lange elva fra Kongshavn gjennom Middelaldervannspeilet til en av Alnas kilder – Alnsjøen. Produsert av Frans Friis.
…
20.00 Presentasjon – «Hvordan snakker vi for Alna» Helge Braathen fra Alnaelvas Venner gir en kort presentasjon om hvordan vi som individer kan hjelpe i vår daglige tilværelse. Fra små rutiner når du besøker elva og ómgivelser rundt, til hvem du skal kontakte hvis du ser noe som kan være skadelig.
Åpen samtale etterpå.
Welcome to the last event of Speaking With Alna. Saturday 07.oct at Nordic Black Theatre.
Speaking With Alna is a series of events with contemplations around Alna River happening this spring, summer and autumn 2023. All events are free and for all.
Program:
18.00
Door Open
18.30
Showing of short film – "Above Alna" (8min)
Reproduction of the drone film recorded by Daniell Philip Ashby of Tilt as the drone pilot and photographer , showing the 15 km long River starts at Kongshavn though Middelaldervannspeilet to one of Alnas source – Alnsjøen.
Produced by Frans Friis.
19.00
Collaborative Art Performance between Simin Tander, Inger Hannisdal and Brooke Sharky
A 1h meeting by Alna between 3 artists from varying art forms create a performance following a 2 day residency. The aim is to reflect and interpret their experience relating to each other and the environment by Alna focusing on emotions. (Conceptualized by Brooke Sharkey)
Simin Tander (www.simintander.com[1])
German – Afghan singer and composer Simin Tander is one of the most amazing voices in
Jazz/ World today. Her warm, tender yet powerful timbre exudes a pull, a heart-opening intensity that is rare indeed. Simin draws a fascinating route to her Mid- Eastern heritage by also singing in Afghaani / Pashto, the language of her late father.
Beside rich songwriting and highly original interpretations, Simin ́s unique
approach to vocal improvisations remains a trademark of hers. Creating her own language,
far away from the usual scat-singing and full of life-enhanced freedom.
''Simin Tander is a miracle of the art of singing" Het Parool (NL)
Inger Hannisdal (www.ingerhannisdal.com [2] )
Inger is a Norwegian violinist and composer, working at the intersection of folk, contemporary and improvised music. She studied Arabic music at Université Antonine in Lebanon, and frequently performs traditional music from the Middle East in various constellations. Her music often focuses on microtonality in melody and harmony, various approaches to uneven time, and extended techniques on string instruments. For her debut album with her ensemble, «North South East West» (2022), she was awarded the TONO composer's price at this year's Spellemannsprisen (Norwegian Grammys), while her following solo album «Free Folk» (2023) has received praise by critics including a recommendation in The Guardian's «Contemporary Album of the Month» column.

Brooke Sharkey (www.brookesharkey.co.uk [3])
Brooke Sharkey is a British singer, songwriter and guitarist who grew up in London before moving to France at the age of 9 inspiring her interest in songwriting in both English and French. Starting her musical journey as a street performer and session singer at 16, she has since released 2
Eps and 2 full length albums 'One Dress' (2012) and 'Wandering Heart' (V2 records- 2016), travelled and toured extensively as well as gaining recognition from The Guardian claiming her as one of the top 50 artists in the world in 2016. Brooke's writing reaches poetically into the vaste and intricate themes of love, loss, hope, beauty, nature, seduction and sadness.
20.00
Presentation – "How to speak for Alna"
Helge Braathen from Alnaelvas Venner giving a short presentation about how we as individuals can help in our daily life. From little routines when you visit the river, to who to call if you see something may be harmful.
Open conversations after.
Med vennlig hilsen / Best regards
Danee Feng
Kroloftet
Links:
——
[1] http://www.simintander.com/
[2] http://www.ingerhannisdal.com/
[3] http://www.brookesharkey.co.uk/?fbclid=IwAR1DH-mKWHGiU5TPyuc_BifAzfLjOFKdfXVYdHKSRJcvVAl-j_NGhBsvmyk